The repeaters are located 26 miles off the Southern California coast on Santa Catalina Island. From their offshore location at an elevation of 1602 feet above sea level, they have great coverage of the Southern California area and are operated 100% on solar power. The repeaters are open repeaters for all amateurs who are members, non-members, visitors and even travelers and vacationers to the Southern California area. We simply ask that they obey FCC regulations and operate courteously.
147.090 MHz (+0.600 MHz) No PL
224.420 MHz (-1.600 MHz) PL 110.9 -EchoLink Conference Server *CATALINA* Node #384712
448.900 MHz (-5.00 MHz) C4FM or Analog FM using PL110.9
927.9375 MHz (-25 MHz) DPL 311
51.86 (-0.500 MHz) 82.5 PL
Packet node on 145.050 – CARA-7, Bulletin Board – CARABB
…or:

Avalon Repeater 446.140 MHz (-) PL 110.9 Local repeater, works only in Avalon. Talk all over Avalon with just a low-power handheld! Linked to 147.090.

Costa Mesa 224.32 MHz (-) PL 151.4 -Allstar N6ACG Node 57403 and Echolink N6ACG-R Node #563200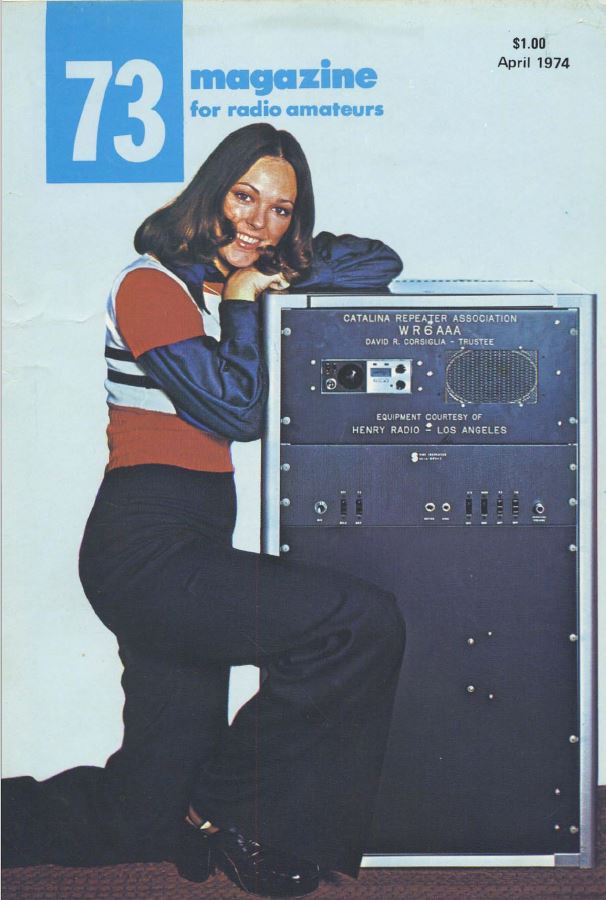 MEMBERSHIP
Join CARA or renew your membership on the Membership page. We are now set up for paying with PayPal. Instructions for joining or renewing can be found on the Membership page. Just click the button at the top of this page to go to the Membership page.
Please direct your questions to info@cara.radio
---
CARA Breakfast in the Park for August 2023
By John Wolcott, KB6OVO
What a grand time it was at the August Breakfast in the Park. Our meeting keeps growing in number and the raffle prizes never disappoint. We had 32 members signed in and more there as guests.
The gathering of club members and guests was a great chance to talk over radio, family and other interests. It seems we have a number of attendees that have an interest in UAV flight or more commonly called 'drone flight.' Airspace over Bolsa Chica Park is Class D airspace and requires the FAA to give the go ahead before flying there. I had been hoping to get FAA Authorization to fly a drone that day, but didn't hear back from them in time. So drone flight is suspended there until I hear more from that Agency. If I get authorization, I'll be providing 'how to apply' information to other club members. We did get a chance, though, to show off our aircraft and talk about use and settings. I think it would be serious fun to 'film' some of the gathering and share snapshots and videos taken from the air.
Nonetheless, the camaraderie at Breakfast in the Park can't be matched; and neither can the breakfast fare. We had pancakes with fruit toppings, pastries and fruit. Bill Malecki, KN6SMP, provided his World-Famous bacon, Jim Williams, KB6TKA, brought his pickling endeavors and there was plenty of my personal favorite, hot coffee. It's impressive how our special group turns an ordinary meeting into a special social event.
Our President, Mike Fiola. AI6AB, Dan Corth, AD6HK and other board members work tirelessly on our second Saturday, every other month, to make this event far better than any other Amateur Radio group you'll find. The raffles were a clean sweep of the Marks… The 50/50 raffle was won by Mark Paquin, KN6SNK and the grand prize was a TYT TH-9000D Mobile Transceiver, won by Mark Logan, K6MBL.
The hurricane that came through 3 weeks into the month was projected to be a doozy. I know everyone wanted to keep track of the conditions; not just for their home QTH, but for any damage to Catalina Island and specifically, our repeaters. Tim Neville, AG6FG, who is a Catalina resident, was kind enough to keep us apprised of the approaching storm, Hillary. Quoted from Tim, "It looks like we dodged the big one. The storm broke up after the peninsula poked it in the eye at Baja California and sent it spinning as a chair missing a fourth leg. It then hit cooler water and Hilary was done. But it sure was great to be prepared."
Father Edward Jablonski, WA2ABF, was there to officiate a tribute to CARA members that are now Silent Keys. Midge Bash, W6LIK prepared quite an honorable display of the names of the prior member Amateurs who have passed. It was a special time of remembrance.
The club gatherings are certainly not to be missed and we look forward to seeing you there. The next Breakfast in the Park will be held October 14th. Food will be served around 8am and a short meeting will follow at approximately 9am. Please bring your chairs and a small table and your favorite coffee mug. A negligible donation for breakfast keeps our great gathering supported. This is a neighborhood park and there are limited picnic tables. Restrooms are available. Bolsa Chica Park is located at 13660 University St, Westminster, CA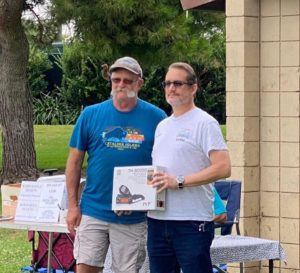 ---
Pictured are the Radio winner, Mark Logan, K6MBL and our illustrious Association President, Mike Fiola , AI6AB
---
The CARA Annual Picnic is 11am – 3pm September 23, 2023 at Bolsa Chica Park, in Westminster, CA (see directions below)
Burgers & Hot Dogs will be ready at Noon
Join us for: Food * BBQ * Raffle prizes *
HF radio operation * Loads of FUN!
(You are welcome to bring a radio and antenna to set up and operate. Bring a battery as there is no electricity available at the picnic site.)
This spacious park has lots of grass, trees and rest rooms. Please bring chairs.
CARA Members are FREE, Visitors & Guests: $5.00 (Visitors & Guests welcome)
CARA will provide Burgers, Hot Dogs, Soft Drinks, Plates, Utensils and Napkins.
Please bring your favorite picnic side dish, chips or dessert to share!
---
CARA Breakfast Meeting
2nd Saturday of even months – Next breakfast meeting scheduled for October14th, 2023.
Plan ahead. Future meeting dates in 2023: December 9
This will be our usual Bi-Monthly meeting held outdoors (Visitors & Guests welcome). Food will be served around 8am and a meeting will follow at approximately 9am.
This will be a "pancake breakfast". There will be a nominal cost to cover the cost of the food. Coffee will be provided, please bring your favorite mug or thermos. If you desire any special food, condiments, etc. please bring your own.
Please bring your chairs and a small table. This is a neighborhood park and there are limited picnic tables. Restrooms are available.
Bolsa Chica Park is located at 13660 University St, Westminster, CA 92683
Interesting video of climbing a 1,700 foot tower
https://www.ebaumsworld.com/videos/the-real-stairway-to-heaven/81100181/